Established in 1992 as the joint venture among Thai and South Korean leading companies: Thai Union Group Public Company Limited, LF Foods Corporation and CJ Foods Corporation, Luck Union Foods Company Limited is the frozen processed surimi seafood manufacturer certified by international standards such as GMP & HACCP, BRC Global Standard, MSC (Marine Stewardship Council), SQF, Kosher, Halal, etc.
Located at 1/74-75 Moo 2, Samut Sakhon Industrial Estate, Thasai, Mueang Samut Sakhon, Samut Sakhon, we have operated our business since 1992 with the registered capital of 150 million Baht, annual production capacity of 30,000 tons and 800 employees.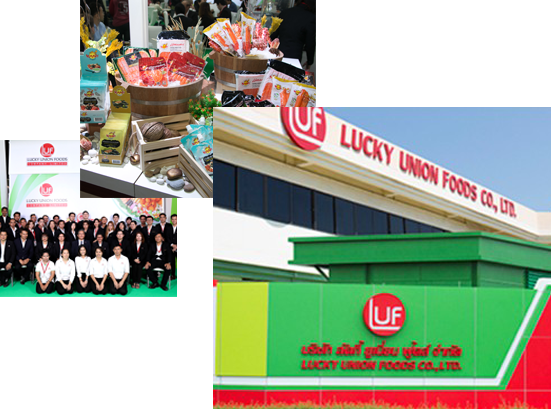 We focus on selecting high-quality raw materials from around the world to manufacture various products to meet consumers' requirements under Kani Family and Lucky brands with the slogan "Enriching Moments". We market all target groups in modern trade channels, including department stores, supermarkets, convenience stores, restaurants, food chains, fresh markets and business partners, both local and international in more than 40 countries around the word.
n 2003, we expanded our production base to Poland under the name of Lucky Union Foods - Euro Company Limited, with annual production capacity of 10,000 tons for market expansion in Europe.
Vision
"To become the global leader of processed surimi seafood manufacturer."
Mission
"Create and capture new values in processed surimi seafood business."